BADM 323 Marketing Communications
Canva Case

By Paul Kienzle, Kelsey Klovens, Pat Dillon, Kaelan Lee, Melissa Dean, Miranda Johnson, and Ashleigh Lefevre
Executive Summary
We believe that Canva presents tremendous potential in becoming a leader in the graphic design software industry. Through our research of your brand, we have uncovered that you are a forward-thinking, resilient company that continues to grow despite the greater resources and outside actors that your competitors have. However, we are concerned that your growth model fails to take into account a crucial aspect of the US economy – small businesses – and thus, your growth is likely to stagnate in the coming years if you are not able to effectively penetrate into this core economic subset.
Thus, it is our recommendation that you invest heavily into an IMC campaign that targets Small Business Owners situated in big cities in the United States specifically. In addition to accounting for a large proportion of all US workers, we believe that this target market will be best due to the fact that they present a legitimate need for your services. Small business owners rely heavily on their social media presence and other advertising more than larger, more established enterprise clients. However, many of them (particularly older business owners), do not have the design graphic skills necessary to achieve the online presence they are seeking, nor do they have the economic resources to employ professional assistance, particularly after the Covid-19 pandemic. Therefore, an IMC campaign targeting Small Business Owners would significantly increase Canva usership and allow you to continue on the same growth trajectory you are currently on.
Considering that the main need of this target market is to increase their digital advertising presence at the lowest cost possible, we believe that positioning Canva around the attributes of "accessibility" and "relevance" will be best. We recommend that the tagline "Marketing Made Easy" be incorporated into a range of advertisements to highlight that Canva allows even the most novice graphic designers to take control of their brand at no cost and with little effort, and thus it is highly accessible. The second tagline we recommend you use for advertisements during this IMC campaign is "Keep Up with Canva". This tagline highlights that Canva helps to address the relevant struggles of small business owners, specifically the growth of technology and increased dependence on digital advertising during the Covid-19 pandemic.
The vehicles that we suggest utilizing to achieve this positioning are television commercials on NBC, printed advertisements in the Fortune Small Business Magazine, and digital advertisements on Facebook. Each of these vehicles provides a unique opportunity to reach our target market of small business owners in a different way. As a reputable, popular news channel, evening commercials on NBC News will be effective in creating general awareness for Canva, specifically reaching small business owners in big cities. Printed advertisements within the Fortune Small Business Magazine will serve to increase awareness from older small business owners, considering that Gen X'ers and Baby Boomers prefer consuming their media in printed form, and this is a highly reputable magazine which small business owners frequently turn to for information and advice. Lastly, digital advertisements within Facebook will allow us to effectively and efficiently reach a large proportion of our target market, due to the fact that Facebook's Audience Optimization Tool will allow us to specifically target the demographics and business types we want to advertise to.
To evaluate our campaign, we will take advantage of Canva being a web-based application through accessibility to usership trends and how users are utilizing the tools. We will be able to efficiently track how and who is using Canva from the moment a media event is launched to a point in time afterward. The criteria for evaluation will be examining MAU (monthly active users), DAU (daily active users), and CTR (click-through rates) before and after each successive vehicle launch. As we collect data, one of our primary concerns would be that usership of Canva services plateaus or remains stagnant even after our marketing campaigns are implemented. We are not necessarily concerned about users upgrading to the paid version of Canva, but more so attracting prospective users to Canva in the first place. We are confident that once small business owners realize the ease of use and creative benefits Canva offers, they will upgrade to the paid version for more tools and ways to brand their business.
We hope you understand by now that the opportunity for Canva to continue to grow is tremendous in the specific market of small business owners. You hold a service that could enact significant, tangible change to a segment of individuals that need it most. We believe that our recommendations for this specific IMC campaign could allow you to most effectively reach small business owners and make them likely to adopt Canva services. So now, it is up to you to decide whether to bring these recommendations into fruition and see the change we know Canva is capable of making.
Table of Contents
SECTION 1: SITUATION ANALYSIS - 6
SECTION 2: SEGMENTATION, TARGETING, POSITIONING - 12
SECTION 3: MESSAGE STRATEGY & TACTICS - 16
SECTION 4: MEDIA STRATEGY & TACTICS - 21
SECTION 5: NON-ADVERTISING PROMOTIONS - 26
SECTION 6: INTEGRATION AND EVALUATION - 32
BIBLIOGRAPHY - 36
Section 1: Situation Analysis
---
External Environment
The pandemic is a major influence on the industry's current economic and technological situation. For companies within the industry that have print businesses, a transition to working from home is definitely predictable, and Canva, in particular, noted a 75% drop in revenue in print operations but a 30% increase overall due to an increased presence of consumers and businesses online (Browne 2021). In terms of industry competitors, Microsoft reported a 33% increase in net income from pre-pandemic reports, citing $15.5 billion in the last three months of 2020 (AFP News 2021).
As the world pivoted and remained virtual throughout 2020, the demand for simple graphic design and customizable online presentations and materials has risen considerably. An estimated total addressable market for the graphic design software industry is between $136.6 million and $512.4 million globally (G. 2017). Increases in demand in the industry have been reported by 81.8% of software and app development companies and 91.2% of website design and development agencies since the start of the COVID-19 pandemic (Ransom 2021).
As Canva increases its viability in its industry, it competes with giants in the graphic design space, such as Microsoft, LucidPress, and Adobe. Adobe was valued at $149 billion in December of 2019 (Konrad 2019). In July of 2020, the closing of Canva's $60 million funding round boosted its valuation to $6 billion (Oster 2020). This valuation brings Canva's to almost double Box's current market capitalization, making it a strong competitor in the industry (Konrad 2020).
Canva primarily relied on a freemium model before transitioning to more paid services and products and has put a lot of effort into growing their platform through clear and targeted marketing. Canva makes it very clear and easy to use their website. They use goal-related keywords that are targeted to prospective users, and they do a lot of promotional work through their social media presence and campaigns (Vivekanandarajah 2020). Mary Meeker, owner of venture capital, funds General Catalyst and Bond, notes that "the Canva team are building their platform around three trends - content, community, and commerce - that we've been observing in some of the world's fastest growing companies" (Clark 2019).
Internal Environment
Canva's organizational structure can be characterized as fluid in that "teams form and reform as projects change." Top management then trusts these teams to address issues and make decisions as they arise (Powell, 2015). By "[making] complex things simple," Canva aims to be a "force for good" by providing nonprofit organizations and educational institutions with Canva Pro for free (Nasdaq, 2020). Every decision Canva makes is in pursuit of this goal for common good.
Canva was founded in 2013 by Melanie Perkins (CEO), Cliff Obrechtis, and Cameron Adams (CPO) (Konrad, 2019). In order to ensure that Canva's products remain innovative and keep up with consumer demand, the Product Management team consists of people from all educational backgrounds (e.g., designers, marketers, researchers, analysts, engineers, and lawyers). This diverse group offers a multitude of perspectives and acts as Canva's designated problem-solvers. The Data & Analytics team provides Canva with essential data that evaluates the effectiveness of Canva's products. The Design team is responsible for designing the products on Canva in a coherent and user-friendly way.
In addition to relying on unpaid "word of mouth" marketing, Canva also uses Search Engine Optimization. With paid search advertising on Google Ads, Canva targets goal-related keywords that "outline a job [an individual] can accomplish using their product." When a potential Canva user clicks on this ad, they are directed to a specific webpage on Canva's website that clearly outlines how they can perform the job they seek to accomplish (Vivekanandarajah, 2020). This ease of use often translates into the "prospective" user creating a Canva account and becoming a full-time user. Additionally, given the fact that Canva aims to help users create visually appealing graphic designs, they also utilize social media marketing. If an individual creates social media content for Instagram with Canva, they are encouraged to use "#canvalove" in their post; more than 84,000 posts use this hashtag on Instagram.
Canva employs a wide variety of people to promote diversity and inclusion. Having a diverse environment helps them "empathize and understand the needs of [their] users" while also creating "a product that improves their lives" (Canva).
In terms of functional needs, Canva positions itself as a graphic designing platform that is easy to use, regardless of whether or not the user has any prior experience with graphic design. The platform can be used in a personal and/or professional capacity and is affordable for everyone. This ease of use suggests Canva has a relative advantage over other similar competitors.
Canva currently offers Canva Basic, Canva Pro, and Canva Enterprise. Canva Basic is free and provides the user with "everything [they] need to start designing." The main purpose of this option is to convert free users into paid users. Canva Pro offers all of the same features Canva Basic and other features (e.g., more photo options, more design templates, etc.). Individual users can choose to be billed monthly for $12.99/month, or they can choose to be billed yearly for $199.99/year (for an average of $9.99/month). Suppose a user on the Canva Pro account wishes to add team members to their account. In that case, they will be charged an additional $6.99 per person per month (on the monthly billing plan) or an additional $4.99 per month for every additional team member (on the yearly billing plan). Canva Enterprise costs $30/month for one person plus an additional $30/month for every additional person added to the account (Canva). Canva is entirely based online and is "distributed" to users directly through Canva's website. Users can also access Canva via the iOS app.
In addition to offering users a free 30 day trial of Canva Pro, Canva Basic users can see, but not use, all of the features of Canva Pro. This helps foster conversion to the paid version on Canva, as users can see the wide variety of unique features they can access if they subscribe to Canva Pro.
Problem Definition
Canva has proven to be a very resilient and forward-thinking company that continues to grow despite competing companies with more resources and outside actors that challenge the company's integrity. Canva has established itself alongside the more-renowned Adobe products by its free easy to use content, which embodies Canva's overall message of prioritizing the human experience over profits. However, Canva faces problems related to offering more content that fits within the "ease of use" model, encouraging more users to upgrade to paying memberships, hackers attacking their IT infrastructure, and expanding to larger markets, specifically the United States. This last problem is the most critical because if Canva wants to continue its growth against competitors like Adobe, they must increase their market share. Canva has placed priority on growing their presence within the United States with establishing an office in Austin, Texas to "provide strategic support for enterprise clients and nonprofits as the country navigates the "new normal" workplace (Canva)." The problem with this growth strategy, and our problem definition for our campaign, is it fails to take in a crucial part of the US economy, small businesses, and their employment of almost 50% of US workers (SBA). This economic subset represents a market that is low on funds, especially due to the Covid-19, yet relies on their social media presence and other advertising more than larger, more established enterprise clients. Our integrated marketing campaign targets this audience to significantly increase usership, even if most growth is in the Canva Basic model. The primary problem for Canva is getting customers in the door and then from there shift them to their paying model.
Small Businesses provide a unique opportunity for Canva to help these businesses achieve a 21st Century approach to creating sleek and informative advertising on social media for business owners who are often older and not very familiar with the power of social media. Especially in this time of "shop local" within the United States, Canva can do their part to encourage this campaign by providing the messaging tools for small businesses to reach customers. Canva has web pages dedicated to showing how their services can help small businesses in digital marketing, but do not appear to directly have advertisements that target small businesses (Canva). Part of our marketing campaign can direct small businesses to these resources in addition to how Canva can assist them. A successful partnership between small businesses and Canva would expand the customer base for all parties. The most important benefit for Canva to target this market is small businesses tend to be well-rooted within the communities they lie within. In other words, once Canva successfully establishes a good reputation with one local business, the business will likely spread the word on how they were able to successfully brand themselves with tools from Canva. This expansion would include both other small businesses and the average everyday person who interacts with these local businesses. We could potentially experience a bottom-up effect that starts with small businesses and allows the grassroots campaign to reach larger enterprises through their employees interacting with their local small businesses.
Critical Factors
The critical factors include reaching, influencing, and educating small businesses owners across the United States. We are targeting small businesses as a whole, but particularly those businesses that have failed to realize the positive impact of efficient and effective digital marketing. There is no fault on those small businesses because their usual way of marketing, mostly word-of-month, has probably worked for a long time, but these are unusual times. Similar to how they must reorient their services to the pandemic, small businesses must also change how they communicate to their customers, and for some that will include an entirely new approach. Every small business is going to have their unique needs and wants, but a common denominator for all businesses will be sleek and uniform branding across all their marketing communications. Our integrated marketing campaign will hone in on educating new clients and highlighting the benefits of utilizing Canva. Our media strategy will focus on tools and methods that reach, influence, and educate small businesses owners across generations through print, digital, and television. Therefore, our strategy will be to initially target small business associations throughout the country because they release newsletters to their members, which can be sent to hundreds or thousands of member businesses. This newsletter would educate on how Canva would help the business through sleek and uniform branding and highlight how social media is a free and ever-expanding space to communicate to current and future customers. We will launch a Facebook campaign that will include similar information to the newsletter with the addition of how-to-videos and links to Canva's website. Our television campaign will feature real-life small businesses owners talking about the positive impact Canva had on their advertisements and how it translated to dollar signs. Overall, we believe resources would be best spent on influencing and educating small businesses because many likely do not realize the power and usefulness of digital advertisements.
The key way of achieving a trial from this target audience is not necessarily through strictly talking about the influence of social media. The key will be translating dollars to smart and clear digital marketing. Some small businesses may not fully understand social media, but all understand money. Therefore, as stated, ads will include real-life examples of revenues before and after a small business used Canva to make digital content for social media. It was challenging even before the pandemic to be a small business owner, let alone now with health safety concerns. Small business owners are desperate for help to keep their businesses afloat. They can be greatly assisted by firmly and clearly establishing their brand across all types of communication methods and that starts with a sleek and uniform brand. Canva is in a unique position to help by offering free and easy-to-use software, two adjectives that will be welcomed words for small business owners. Before the pandemic, small businesses were renowned for giving back to the community that supported them. If Canva is willing to assist them now in their time of need, small businesses will give back to Canva.
Section 2: Segmentation, Targeting, Positioning
---
Market Analysis and Segmentation
With over 30 million monthly active users across 190 countries (CNBC, 2020), the market for Canva is extensive and diverse. Positioned in the graphic design software industry, Canva's unique selling proposition is to provide easy, efficient, and financially accessible solutions that create better and more beautiful designs. With visual and design literacy presenting as a crucial skill required by almost everyone in our modern era of constant technological advancements, Canva addresses the needs of many different individuals and groups.
In simplest terms, the market for Canva can be segmented by the various plans that they offer. Their "free" plan attracts individuals and small teams interested in creating better designs at no cost. Their "pro" plan attracts individuals or small business owners who desire more advanced tools and greater content. Their "enterprise" plan attracts larger teams and businesses seeking to manage their brand assets and campaigns through one integrated tool. Their "education" plan attracts teachers and schools who want to enhance their student's visual learning experience. Lastly, their "non-profit" plan attracts charitable organizations striving to generate high-impact social media graphics and better market their brand. The widespread variety and availability of their plans demonstrates just how large the market for Canva truly is. Ultimately, they are serving individuals, small businesses, large businesses, schools, and non-profits through their one singular platform.
More specifically, the Canva market segment can be analyzed by its users' psychographics. Those who employ Canva's "free" plan could be described as "makers" using the VALS framework model. Makers are motivated by self-expression and are known for having enough skill and energy to carry out their own projects despite having few resources. Canva takes hold of this self-expression and enhances it by providing an intuitive and user-friendly interface that can be tailored to the unique need and wants of the individual. In providing a range of templates, fonts, colors, elements, and free photos to choose from, Canva allows these "makers" to carry out their projects on their own at no fee. "Makers" account for a majority of Canva's 30 million monthly active users, as only 300,000 actually "buy" Canva services (Webprofits, 2019).
Those who employ Canva's price-subsidized plans such as the "pro" or "enterprise" plan are more likely to be "achievers" according to the VALS framework model. Achievers are motivated by their desire for success and have a deep commitment to their career. The advanced tools and accommodation for larger teams provided in these priced services are more likely to tailor to the specific needs of this psychographic segment. "Achievers" are also more likely to have the financial means necessary to purchase these priced services.
Canva is strictly an online platform, and hence the market buys these services virtually. As this is not a physical product, buyers can purchase Canva services through the Canva website or the Canva app. Due to the flexibility and accessibility of this online buying platform, Canva users range to 190 different countries globally. This geographic diversity is one of the many reasons why Canva has been able to attract such an expansive user-base. Despite being founded in Australia, the United States accounts for 19.23% of total traffic to the Canva website, with a positive growth rate of 0.42% (SimilarWeb, 2021). As the leading user-base by country, the United States presents the most potential for expansion and growth as a target market. More specifically, Canva purchases in America typically originate in offices and business locations, considering that the primary benefit of Canva is to enhance digital marketing efforts.
In simplest terms, there are two participants involved in the buying process for Canva - the seller and the user. Canva acts as the seller, offering their graphic design software to potential users who can choose to either use their free services or pay for superior services. Ultimately, the only users in the Canva market that "buy" their services are those that subscribe to the "pro" plan or "enterprise" plan. Those opting for Canva's free services can simply start using Canva tools via the website platform without having to sign up or provide any user information. For users that choose to buy Canva's premium services, there will likely be more parties involved in the buying process, such as the members of the organizations or companies that are creating the content to advertise their brand. To buy these services, users will have to sign up and make a Canva account via the website platform before these premium tools can be used. Small and large business entities will pay for these superior Canva services when they are striving to increase team productivity and better brand their business through consistent and visually appealing designs. These goals typically relate heavily to growth, and as such, businesses will purchase Canva when they are striving to gain a competitive advantage and confound marketing challenges that they cannot mitigate on their own. Seeing that Canva's premium services are also more useful for large teams, there will be a greater number of buyers involved due to the fact that the "pro" and "enterprise" plans are charged per person. It is also important to note that Canva "contributors" play a role in the buying process. A contributor refers to a person that has been authorized to upload images and designs to Canva in exchange for monetary compensation. Contributors are essential to the Canva buying process as they enable the continual stream of new, beautiful, innovative design content that users are likely to purchase Canva for.
Market Targeting
Our target market includes small business owners in big cities. Demographically, they live in cities in the United States, their age ranges from 18 - 60, they have family, a high school diploma or higher, and are in the middle class. As for psychographic characteristics, they can be described as "makers'' according to the Vals Psychographic Framework Model. Similar to much of Canva's current "free" plan users, they are motivated by self-expression and have enough energy to carry out their own projects despite having few resources. However, unlike current "free" plan users, they lack the necessary skills to carry out their own digital marketing projects effectively and efficiently. "Makers'' also value family, friends and products that are practical and functional. These characteristics of "makers'' make this group highly likely to employ Canva due the functional benefits this service offers, which will provide them with the assistance necessary to carry out their own digital marketing campaigns at a low cost. Additionally, small business owners have a positive attitude and care about their business, but many are stressed. A lot of small businesses are struggling in the pandemic and they need to expand their online presence. However, a lot of them may not have experience with social media, graphic design, or other technical skills. They need help from Canva in order to compete with the big companies, thus they can gain an education on these skills and utilize them with Canva. Collectively, these specified characteristics of small business owners make them highly likely to adopt Canva.
Market Positioning
For proposed brand positioning we want to showcase Canva as an online graphic design platform that is free and easy to use. No experience required, Canva empowers its users to express their creativity into thousands of beautiful layouts. For all of your business designing needs, Canva provides all the necessary tools for you to manage your unique brand. Canva is the perfect platform for small businesses because of its accessibility and relevance to have a strong online presence during this digital age.
Our communication objectives for our target market of American small businesses are to create brand awareness. We want to position Canva functionally so small businesses realize that they have the ability to manage the design side of their business in a simple way and with little cost. We want to communicate that, by using Canva, its users can increase their visual design competency and take control over their brand by utilizing their own creativity. Once small businesses are aware of Canva's low-cost, easy-to-use attributes, word will spread throughout the target market.
Section 3: Message Strategy and Tactics
---
Our key selling benefit revolves around the easy learning curve and seamless user experience. This is super important because we are in a time where small businesses need to keep up with big businesses in the digital age.
Copy Points
Canva is known for its easy access and efficiency. We want to express to our users how easy it is to use Canva. Canva is used for many different reasons but something we are focusing on is the benefits it can give smaller businesses that don't have all the proper advertising resources. A way we will try to do this is by advertising real life examples of how Canva has helped grow a small business. This will help get the message across that Canva is a great tool for all businesses, especially small companies.
Another point we want to emphasize in our ads for this campaign is the importance Canva has in keeping companies and organizations up to date in times like COVID. In a time where there is less in-person advertising, it's critical to be able to advertise a brand digitally. This campaign should be used to express through ads how digital advertising can replace the in-person benefits of advertising. This past year companies have struggled with transitioning fully virtual due to COVID and this campaign should be able to express the success that Canva can bring them in this digital era.
Support
Canva can back up its promises of accessibility due to its archive of over 2 million images and templates for its user to try out, its drag-and-drop interface, as well as a plethora of premade branding kits and materials to choose from. Users can get a lot out of Canva with the completely free version, but there are reasonably-priced options if users want more control over their branding. The Pro plan offers advanced features for $9.99 per team member per month or $30 a month per team member with the Enterprise package. Similarly, due to the increased reliance on the digital space for companies to promote their work, statistics have shown that 64% of consumers make a purchase after viewing a branded social video, consistent brand presentation across all platforms increases revenue by up to 23%, and 38% of users will stop interacting with a website if the layout is unattractive. Especially in the age of COVID-19, more and more consumers are researching online before buying new products and services, or even completing the entire purchasing process digitally. Therefore, a well-designed online presence is key to bringing in consumers for small businesses that want to get the word out in the digital space.
Tone
As a whole, the tone of our creative strategy is inspiring, innovative, and informative. One of Canva's most prevalent selling points is its ease of use. In this regard, we have opted for our creative strategy to be emblematic of Canva's innovative nature; we want consumers to understand just how revolutionary this product is and how it can help them grow their small business in a way that Canva's competitors cannot. It is important to note that establishing a consistent color scheme throughout our media campaigns will also be incremental in establishing our tone. All of our proposed media content will carry out the same pale blue coloring of the Canva logo itself. Pale blue is known for inspiring creativity and the freedom to break free. We want consumers to associate Canva with these colors, as creativity and freedom are heavily tied to innovation. Additionally, we see this specific coloring scheme as being necessary for audience recognition of Canva advertisements. Maintaining a consistent color theme will further attract our target audience to our ads and make them recognizable amongst other competing advertisements that they may be presented to.
Furthermore, change is often scary. One of our critical factors is appealing to older small business owners (who might not be as comfortable with technology as younger people). Our messages must be informative. We will create a clear picture of what Canva is and why it is beneficial for small business owners to use it.
Lastly, our message will be inspiring; consumers will be able to envision what Canva can do for them and their small business; we want consumers to see a brighter future through Canva because this platform can provide them with endless possibilities.
Messages
Our first message relates to Canva's accessibility feature. Small businesses do not have the resources that large corporations have to invest in clear and informative advertisements. All too often some small businesses do not devote any time or money into creating an online presence because they wrongly believe they can afford it. In order for these hard working, passionate small business owners to compete with the larger and resource richer companies, they need to get their name out there, and Canva makes that a possibility through its ease of use and no cost. Canva allows even the most novice graphic designers to take control of their brand with no cost and little effort. To drive this message home for our target market, our message will be "Marketing made easy". The commercial would air on TV and the ad could be on social media or a flyer. Our commercials would be similar to the one below by offering a series of real-life examples from other small businesses about their experience using Canva. The flyers would feature a bad ad versus a clean and effective ad made through Canva and the revenues associated with both those ads..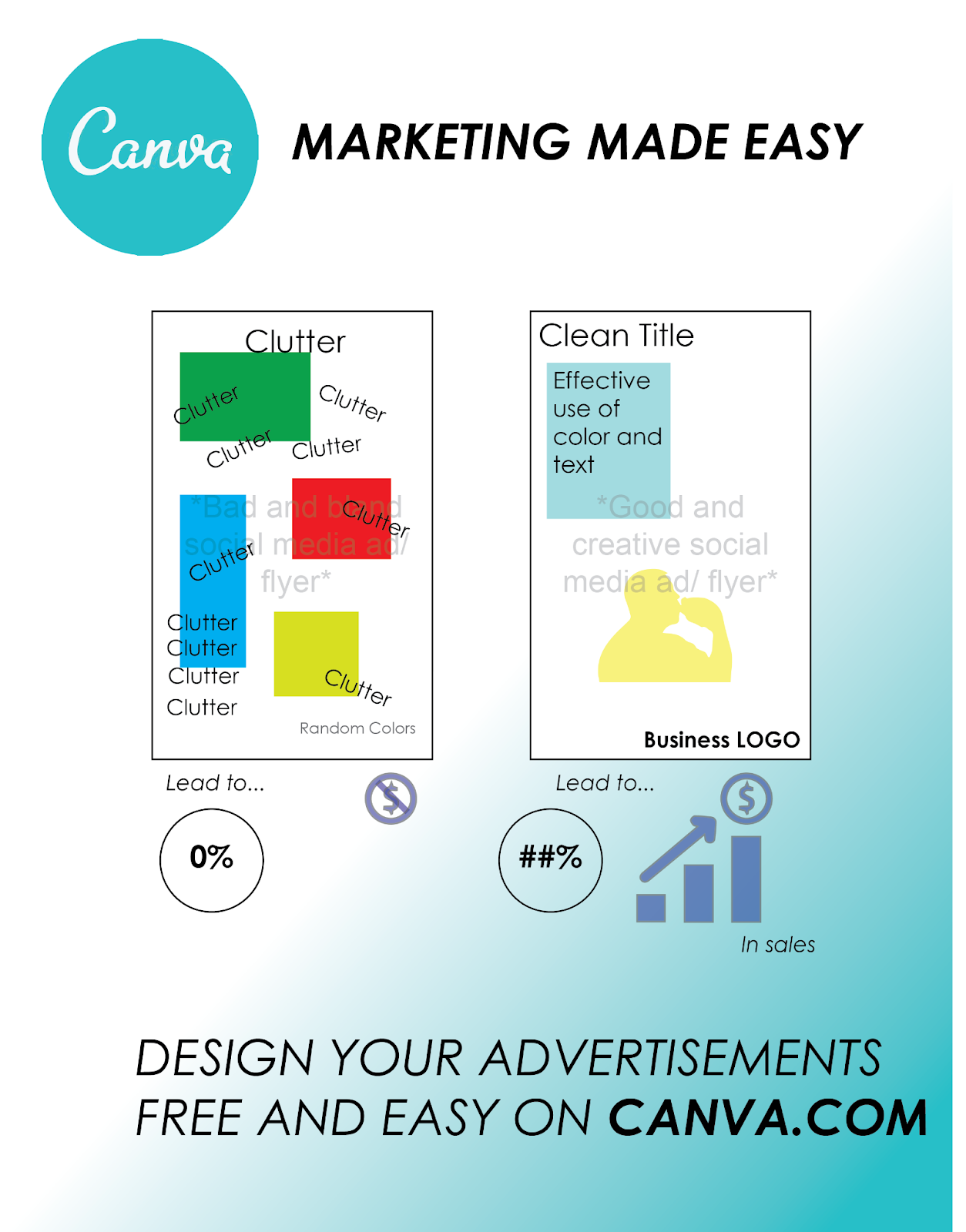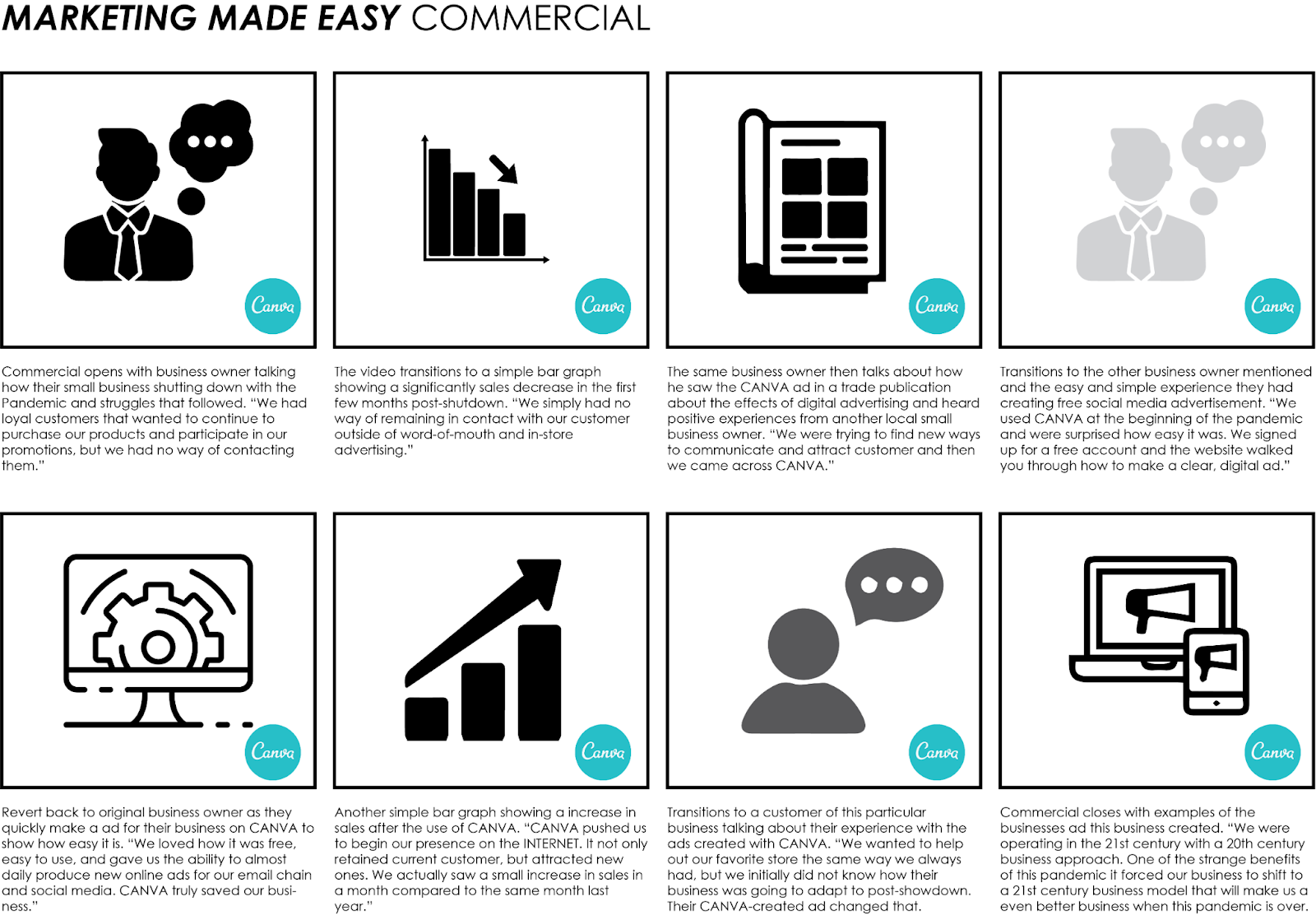 Our second message revolves around relevance. The growth of technology and media in our everyday lives has been exponential, especially for the past year during the pandemic. Small businesses have been hurt by lockdowns and consumer's fear of coming to the business in person. While before they may have relied on word of mouth, flyers, brochures, and other ways to advertise, social media is extremely important. The only downside to this is that they may not have experience with graphic design or media to produce content. That is why Canva is so relevant in this digital age. It can educate them on graphic design and how to use it. To portray this message, we will have "Keep Up with Canva"!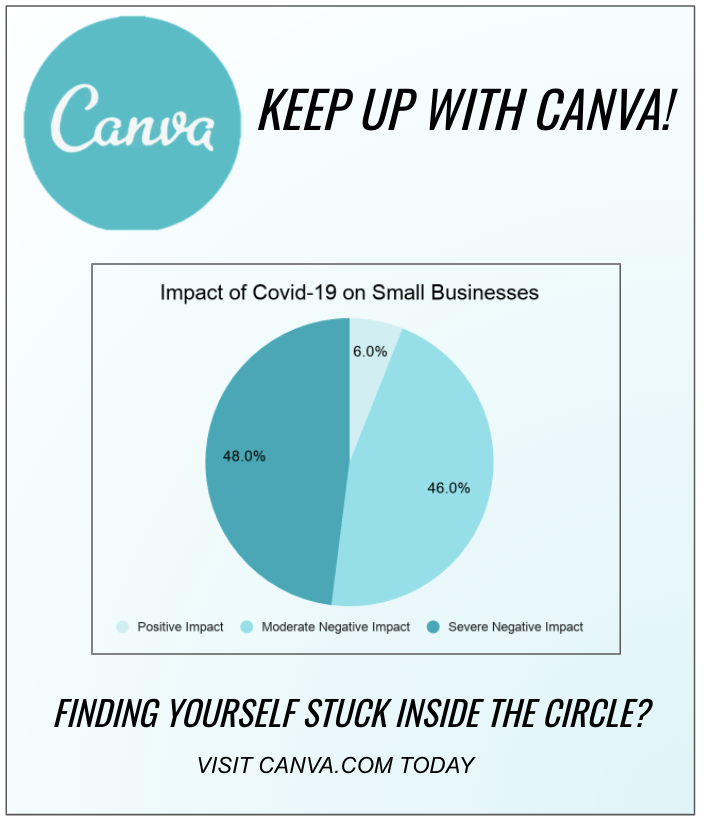 This first proposed media content for the message of "relevance" exemplifies the negative impact Covid-19 has had on small businesses within America. Utilizing the catchphrase "Keep Up with Canva", this visual adopts an informative and supportive tone in an attempt to highlight the struggles small businesses have faced in the midst of the pandemic. This media content could be used as a flyer, brochure, and social media post.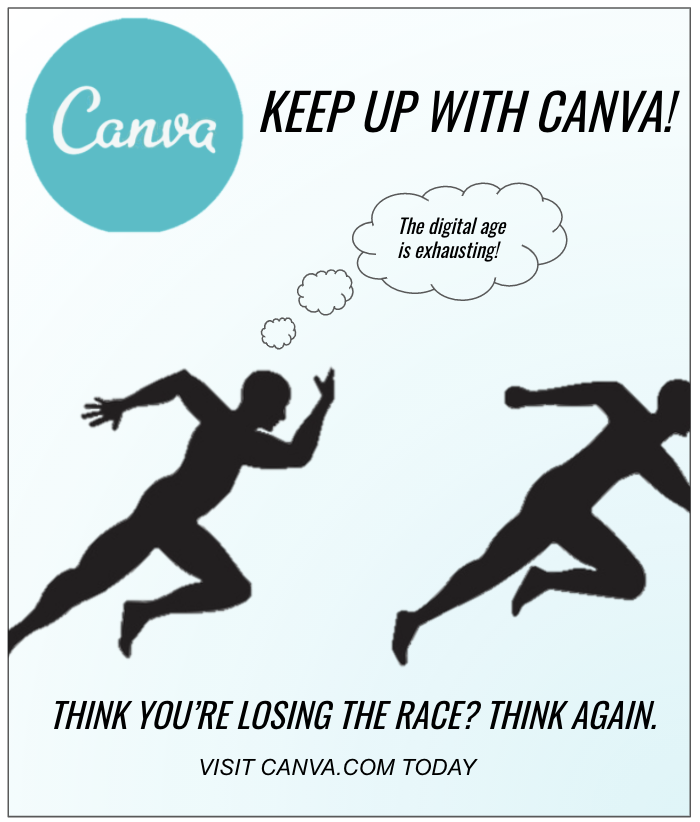 This second proposed media content for the message of "relevance" highlights the impact of the digital age on small businesses' ability to market themselves effectively. It takes a literal stance on the catchphrase "Keep Up with Canva'' through the use of running figures to visually represent Canva's message. It serves to suggest that Canva can assist businesses in closing the gap in the race they have with more digitally savvy competitors. Athletic, youthful-looking running figures have been intentionally utilized to demonstrate to our target market of older business owners that they too can fit this criterion if they employ Canva services. Whilst their younger, more digitally savvy competitors may be depicting this image more than them as of now, we want our audience to look at these figures and be inspired by the idea that by using Canva, they will elude this kind of energy and regain some of their youthfulness. The tone of this message is inspiring and innovative, by demonstrating that Canva is here to help businesses be better than they currently are in the digital age. This media content could be used as a flyer, brochure, and social media post.
Section 4: Media Strategy and Tactics
---
Media Strategy
Our first media vehicle for Canva is the news, specifically The Tonight Show NBC. This is because the small business workers will usually be working during the day and watching the news with their families at night. A lot of small business owners in cities pay attention to the news in order to keep up with regulations, business trends, politics, and more. According to Pew Research Center, almost three out of four adults (71%) rely on watching the news via the television. They most likely will watch the evening news after work, so we recommend airing the commercial on the evening news. This commercial will appeal to them because it can help their business in these times so they can become more digital.
The second media vehicle we plan to utilize for printed advertisements specifically is the Fortune Small Business Magazine. Business magazines can serve as an entertaining, alternative resource for business owners searching for a steady and convenient stream of information. The Fortune Small Business Magazine publishes monthly content covering the discoveries of business. Offering the latest news by business sectors, this edition includes a variety of content that is interesting and useful to small-business owners. This is a vehicle that allows small-business owners to gain a sense of direction for their business venture and receive credible advice on how they can improve their operations. Specifically, the less educated and less digitally savvy small-business owners, to whom we plan to target specifically during this campaign, are more likely to read this magazine as it serves as a tool that "can turn the uneducated into an entrepreneur with a firm understanding of the current corporate world" (StrategicCapital, 2020). As referenced by our media schedule, we plan to place one full-page printed advertisement within this magazine for 3 consecutive months.
Furthermore, evidence shows that the medium of magazines is heavily utilized by a large section of our target market. Baby boomers and GenXers who own small businesses account for a large proportion of our target market as these older age groups are less digitally savvy and thus are more likely in need of social media, graphic design, and technical assistance. According to BigCommerce, 62% of Gen Xers still read newspapers and magazines. Additionally, 63% of the print demographic readership of nationwide publications is made up of individuals aged 50+. These age groups also prefer to consume media that reflects their values. These factors make the Fortune Small Business Magazine a desirable platform to employ, as Canva printed advertisements will reflect a potential need for our target market in an industry that they highly value and are within a vehicle they also utilize heavily. Furthermore, as a small-business dedicated edition, the placement of printed advertisements in this specific magazine will allow us to reach our specific target market and thus offer high potential returns for our advertising investments. Additionally, The Fortune magazine entity itself is well-known, credible, and highly popular. According to Fortune's Media Kit, their printed content reaches a global audience of more than 3.6 million people. Thus, it can be assumed that small business owners are likely to opt for Fortune's small business-dedicated edition over other less well-known magazines when searching for business information and news. Therefore, we see the high costs associated with the placement of printed advertisements in this iconic magazine as being a worthy investment as they will offer the greatest potential for increased brand awareness within our target market.
Facebook offers our campaign a wide-ranging media vehicle that can attract older and younger audiences alike. It is well established that social media is very useful in reaching younger generations, Millennials and Gen Z, but social media has become increasingly popular with older generations, Baby Boomers and Gen X; one of the most popular platforms for older generations being Facebook. According to Forbes in 2018, "82% of boomers who use the internet have at least one social media account with Facebook and LinkedIn as the leading platforms (Jafrey, 2018)." Generation X also has a substantial presence on Facebook with 95% of the cohort having a Facebook profile and they are attracted to finding deals, promotions, and contests from brands (Dunwiddie). As stated in the Marketing Targeting section, small business owners range from 18 - 60 years old, with the average age being roughly 50 years old (Experian). These last couple points serve to reinforce that social media, particularly Facebook, can be a very effective way to reach all generations of small business owners. The social media platform allows us to pinpoint our target audience and provide them content that is most pertinent to them.
Transitioning to how Facebook integrates with our campaign, Facebook allows us to specifically target the demographics or business types through their Audience Optimization Tool (The Logo Creative). It allows us to engage our target audience in the most efficient way possible and we can view the demographic and behavioral data of those who interact with our advertisements (The Logo Creative). This allows us to not only directly target small-business owners, but also we can see what they are seeking from the advertisements themselves or Canva in general. In other words, we will be able to understand if prospective users want to see more how-to-videos or more information on how CANVA can make their advertisements stand out. We will post videos similar to the "Marketing Made Easy" storyboard to better deliver our message through real customer testimonials. Facebook's algorithm automatically shows ads to people who are most likely to find the ads relevant (Facebook). Our plan will be to target Facebook pages of small businesses, and their owners and employees. In these posts, it will include our primary message, educational information, and how Canva's easy-to-use features can help transition small business owners into the 21st Century's emphasis on sleek, digital marketing. In conclusion, we want Canva's Facebook posts to be clean and informative posts that exemplify that Canva's website can do the same for the advertisements of small businesses for even the most novice users.
Media Schedule
| | April | May | June | July |
| --- | --- | --- | --- | --- |
| Fortune Small Business Magazine | 1x | 1x | 1x | N/A |
| Nightly News (NBC) | 3x | 4x | 3x | 2x |
| Social Media (Facebook) | PPC | PPC | PPC | PPC |
We propose running a four-month advertising campaign during the months of April, May, June, and July for our campaign schedule. We'll review our progress at the end of July, but if we were to run a year-long campaign, we propose a pulsing media schedule using half the amount of insertions for the remaining eight months. May is National Small Business Month, so we thought that more people who are involved in the world of small businesses will be more inclined to receive ads catered to small businesses well during that month. We are also running the campaign for a month before and two months after to ride the wave of national interest in small businesses and to encourage small business owners to use Canva to make their operations easier as their sales are - ideally - increasing during this time. Fortune Small Business Magazine was published monthly in 2020, but the June and July editions were combined. Assuming this stays the same, we will have our ad delivered in the magazine once a month in April, May, and June as the editions are released. Next, we decided to have commercial play for the nightly news three times in April, four times in May, three times in June, and twice in July. We went with this plan based on the budget and decided to do the most advertisement in May because May is National Small Business Month. For the other months, we have opted to lower the advertisements slightly, but not entirely, because there is a lot of talk about small businesses during these months. Lastly, for social media advertisement, we will begin using our budget of $8,000 and use advertisements based on PPC for the months of April, May, June, and July.
Media Budget and Allocation
| Medium | Cost Estimate |
| --- | --- |
| | |
| Fortune Small Business Magazine | $240,000 |
| Nightly News (NBC) | $1,200,000 |
| Social Media (Facebook) | $8,000 |
| Promotion | $50,000 |
| Direct Mail | $50,000 |
| Total | $1,548,000 |
Our media budget consists of our chosen media vehicles plus promotion and direct mail, coming out to just over $1.5 million. Cost estimates were predicted by combining average costs of advertising and the number of insertions over the campaign. As mentioned earlier, we would cut investments in half for the other eight months for a full-year campaign, which would come out to about $3 million for a full-year budget. We believe this cost allows us to accomplish all of our media objectives at a reasonable price. Broadcast advertising through NBC Nightly News and print advertising through the Fortune Small Business Magazine make up the majority of our budget, and although costly and difficult to measure, they are crucial to reaching our target audience across the nation. Given the fact that our advertisement will air on NBC during a popular time slot, we have allocated the majority of our budget to our broadcast advertising. While an integral part of our campaign, our budget for print advertising in The Fortune is significantly less than our broadcast budget because the ad will only be printed once in each monthly feature. Pay-per-click advertising through Facebook is cost-effective and is easily measured via Facebook Ads Manager. Direct mail and promotions aren't one of our main focuses of this campaign but can be used effectively to spread Canva's message and encourage small business owners to use Canva's services. We have allocated about 6.5% of the media budget to these promotional efforts in light of this.
Section 5: Non-Advertising Promotions
---
Consumer/Trade Promotions
It is recommended that Canva offer a variety of consumer promotional deals which can be made available to the target audience through the chosen vehicles we recommend Canva advertise through. It is firstly recommended that percentage-based discount coupons be included within the printed advertisements in the Fortune Small-Business magazine and digital Facebook advertisements. Such coupons could include discounts such as "15% off annual subscription with the Canva Pro Plan", "25% off brand kits for free plan subscribers" and "15% off business cards" to name a few. While checking out on Canva.com, consumers will be able to redeem the coupon code relating to the specific purchase either by typing it in or using the QR code attached to the coupon. These offers will be made valid throughout the four-month media campaign period, and it is recommended that the specific coupon offered be changed frequently to provide continued value and variety to small-business owners.
Another sales promotion initiative we plan to implement is an extended free-trial period during National Small Business Month. Currently, Canva offers a one-month free trial for all three of its subscription plans (Basic, Pro, and Enterprise) before customers have to start paying for their chosen plan. During May, we will be providing an extension to this offering by promising all new subscribers within this month an additional month free if they subscribe at any time during the month of May. This promotion will serve to increase the trial period of Canva services to two months and hence increase the likelihood of small businesses adopting and trying out Canva services. This offer will be exclusive to customers who begin their subscription during the month of May. This extended free trial period will be promoted primarily on the Canva website, and we recommend banner ads be utilized for optimal visual awareness. Additionally, this sales promotion will also be highlighted in our printed and digital advertising vehicles such as the Fortune Small-Business Magazine and Facebook to ensure that our target market, in particular, is made aware of this offering. Content within these advertisements will include a description of the offering and a link to the Canva website as well as a QR code for optimal convenience.
As it stands, Canva users can cancel their subscriptions at any time, however, the business does not offer refunds or credits for canceled subscriptions. Therefore, we recommend that, during the last month of the media campaign period, Canva offers an exclusive rebate plan in which consumers are able to cancel their annual subscriptions at any time and receive their money back for the unused months within the Pro and Enterprise plans. We have chosen the last month of the media campaign specifically, as we are predicting that many consumers will take advantage of Canva's extended free trial promotion during National Small-Business month in May. Thus, providing this exclusive offer right after their 2-month free trial ends will make small-business owners more inclined to continue using Canva and opt for the annual subscription over the monthly subscription as there is less financial risk associated. Psychologically, opting for the annual plan is also likely to lead them to present a higher level of commitment to using the Canva services on offer because they will see it as a long-term investment without the normal financial risks associated. This specific rebate deal can be promoted via the Canva website under the plan descriptions section, as well as within the media vehicles used for advertising during the campaign. For example, considering that one of the coupon deals is for consumers to receive "15% off their annual subscriptions with the Canva Pro Plan", highlighting the rebate they can also get off this offer would make the deal more attractive to them. It is recommended that this specific rebate plan remain exclusive to consumers who purchase their plan (either before or after their free trial period) during the last month of the media campaign, as offering this exclusive rebate plan for any longer would cause too much financial strain on Canva.
Examples of Discount Coupon and Extended Free Trial Promotion within various Canva printed advertisements: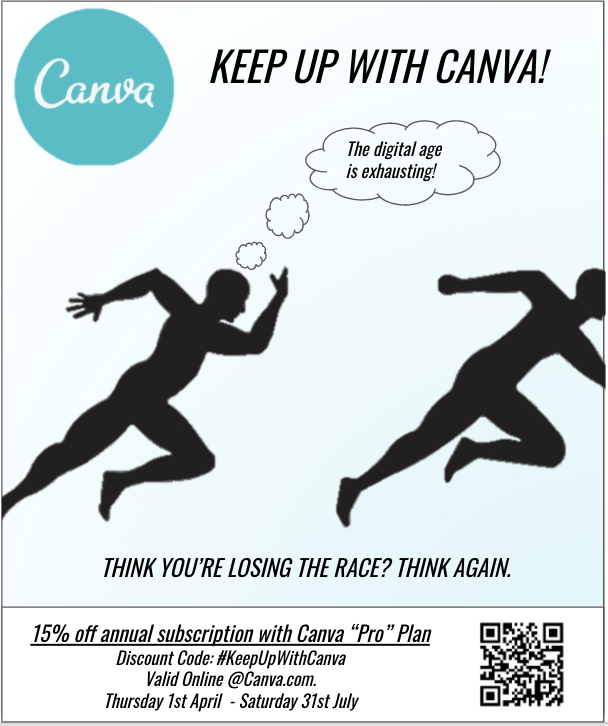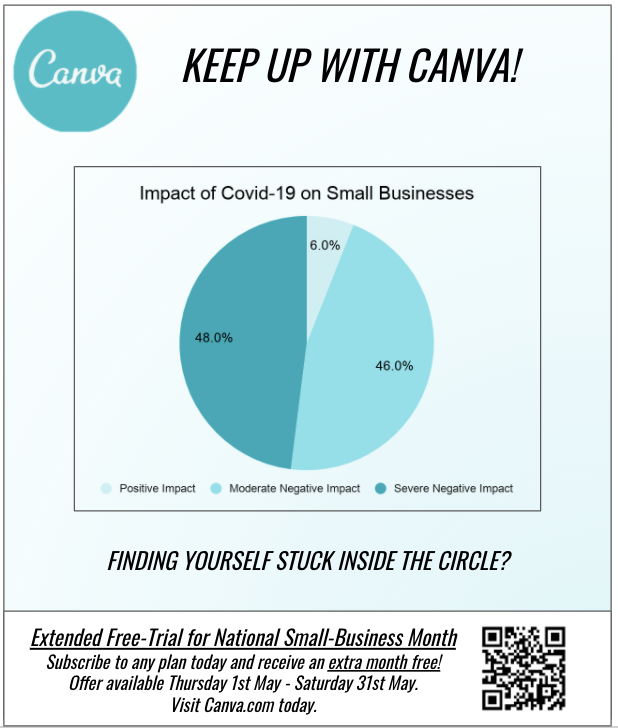 Non-Traditional Media
As for non-traditional media, we are going to use three different types. The first advertising through the small businesses that we help. We are willing to give small businesses a discount on paying for our services if they hang flyers in their business that reads, "We keep up with Canva! Ask us how." This can provoke questions from local people, specifically people involved with other local businesses. We will know they hung these flyers up because they will have to send a picture of proof to receive the discount. The next form is going to be a FaceBook Group sponsored by Canva where small business owners can communicate about ways to help each other, support one another, and Canva can provide different opportunities to get ahead using Canva. During such hard times for small businesses, support can always help, especially with tools that can improve their digital marketing strategies. This directly supports our goal to help small business owners in large cities keep up with the competition in the digital age because it supports collaboration, growth, and learning. Lastly, Canva can host virtual educational seminars for free with small business owners on graphic design and how to use it with digital marketing. They can post these links on their social media advertisements and in their Facebook groups. This could entice small business owners by showing what Canva could do for them and why they should sign up, which directly supports our overall strategy of educating small business owners to help them keep up in the competitive digital world.
Direct Marketing
Throughout the entire four-month campaign, every Canva user (new and existing) will be given a unique code that they can share with any number of people. When a person shares their code with another individual and said individual creates a Canva Pro account, both parties will receive 15% off their next monthly payment or 5% off their next annual payment. This multi-level marketing effort will encourage current Canva users who are satisfied with the services Canva provides to share their code and encourage other individuals to create their own accounts in order to receive the discount. By limiting this effort to four months (the duration of the campaign), users will be pushed into immediate action in order to reap the benefits of this unique opportunity. Both discounts will be capped at three successful shares and purchases.
In order to have better customer relationship management (CRM), Canva will monitor how much time each user spends on Canva and their number of logins (website and app). Suppose a user goes more than 30 days without logging on to their account. In that case, Canva will automatically send the user an email highlighting any new features Canva has developed since the last time the user logged on as well as any new promotions the individual can currently take advantage of.
If a user goes more than 60 days without logging on to their account, Canva will automatically send the user an email that is similar to the 30-day-absence email, however, this email will also include a survey that inquires the reason(s) why the user has ceased using Canva. Individuals will be encouraged to take this survey because, upon completion, they will receive one month of Canva Pro for free. The surveys will provide valuable insights as to why a user might be dissatisfied with Canva and thus give Canva the opportunity to remedy these potential issues in the near future. Additionally, Canva will keep track of users who are sent these emails to see where their services might be falling short (i.e., if any specific marketing segments are discontinuing their use of Canva more than others). This will help make sure Canva does not unintentionally alienate any market segments, especially our target market segment of small business owners.
Example of 30-Day Absence Email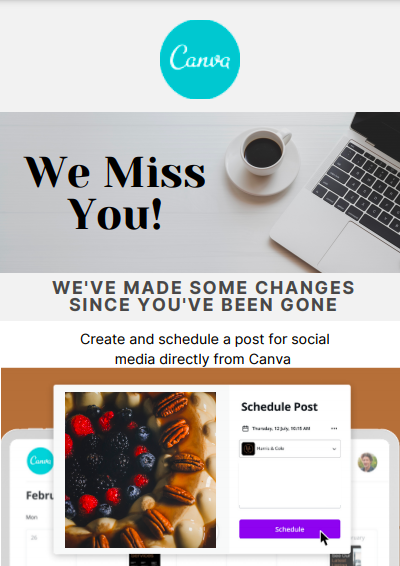 Section 6: Integration and Evaluation
---
Timetable of Activities
| | April | May | June | July |
| --- | --- | --- | --- | --- |
| Fortune Small Business Magazine | x | x | x | |
| Nightly News (NBC) | x | x | x | x |
| Social Media (Facebook) | x | x | x | x |
| Extended Free Trial | | x | | |
| Discount Coupons | x | x | x | x |
| Rebate Offer | | | | x |
| Canva Pro Referrals | x | x | x | x |
| CRM Emailing | x | x | x | x |
This table displays our integrated marketing communication campaign that comprehensively reaches our target market of small business owners in large American cities. We will integrate our non-advertising promotions with our chosen print, broadcast, and social media vehicles. We believe we will consistently reach our target market through advertising on these three main vehicles, and we will capitalize by offering special promotions that persuade Canva users to become more invested in what Canva has to offer. By coordinating our traditional advertising methods with non-advertising promotions, we will accomplish our campaign goals in just four months
Evaluation
In the evaluation stage, we will take advantage of Canva being a web-based application through accessibility to usership trends and how users are utilizing the tools. We will be able to efficiently track how and who is using Canva from the moment a media event is launched to a point in time afterward. The criteria for evaluation will be examining MAU (monthly active users), DAU (daily active users), and CTR (click-through rates) before and after each successive vehicle launch. The primary sign for a successful campaign will be steady increases of usership from month to month. Our goal is to increase usership among small businesses by 0.5% a month, or adding 200,000 small businesses a month. We firmly believe this is realistic since Canva added 10 million users in Q3 2020 alone (Roberti). This will obviously be shown through MAU and DAU data, but high CTR will also signal a trend in the right direction. We are not necessarily concerned about users upgrading to the paid version of Canva, but more so attracting prospective users to Canva in the first place. We are confident that once small business owners realize the ease of use and creative benefits Canva offers, they will upgrade to the paid version for more tools and ways to brand their business.
Our plan's three media vehicles seek to target as many small business owners as possible in ways that are most pertinent to how they become informed. With magazine and television advertisements, the effects are not as immediately clear unlike Facebook, which allows us to see data on who is clicking on our ads instantaneously. Therefore, the most effort will be oriented toward examining television and magazine ads and how they affect MAU and DAU after they were aired and released respectively. For instance, after we air a commercial similar to the example above, we hope for usership to increase. We will also be able to see how these new users are utilizing Canva. We will track the templates, tools, and wording that are most used in small business ads on Canva's website. As an example, if we see a significant increase in word uses related to promotions or an uptick in the design of sales flyers for social media, we will know how successful we were in branding Canva's benefit to small business owners. When evaluating Facebook, it will be much easier to understand how prospective users are interacting with our ads through CTR, how it's being shared, and who is looking at it. Overall, we will track how usership was affected after every advertisement is launched. How long it will take us to examine the results of each ad will depend on the vehicle it was shown within. However, Canva being a website allows usership data and how users are using the software to be very accessible. Once they experience Canva's ease of use, they will invest in premium memberships to further help their advertising, which in the long run, will help you.
Since we are focussing on collecting our data from platforms such as television advertisements and magazines, this data will be collected on a monthly basis. Ads on these platforms strive to increase brand awareness for Canva among small business owners. Now more than ever, small businesses have sought to move into 21st century advertising through digital marketing, but many, particularly older owners do not know how. Our campaign will make that connection of how Canva can fulfill this goal. Therefore, we will utilize Starch Advertising Research Reports and Bruzzone Tests to properly examine magazines and television advertisements respectively. Both these analysis tools will allow us to ensure our message is resonating as it should; the message being ease-of-use and a metaphoric helping hand transitioning to digital marketing during and post-pandemic. Since these platforms are harder to collect data instantly, we will be examining this user usage on a monthly cycle after the ads are released. We will collect this data for four months. We will use these two tools alongside MAU, DAU, and CTR for online ads to collect data. This will give us the best representation of the users that are using Canva during our campaign.
Troubleshooting
As we collect data, one of our primary concerns would be that usership of Canva services plateaus or remains stagnant even after our marketing campaigns are implemented. Through the usership data that Canva's website will offer, it'll be easy to assess which marketing strategy is most closely linked to the stagnancy of usership rates. To address this issue, we might pivot to our backup strategy to create something new and exciting for consumers to see as they learn more about Canva. Similarly, since our primary user target is small businesses, we could coordinate a team to reach out to small businesses across the country that regularly use Canva for their marketing and branding efforts, and get direct feedback from them regarding what approaches and strategies would best target their interests. This could provide us with a new platform to ideate our revised campaign, and we could include stories from active small businesses to encourage the involvement of others. Another possible problem that could arise could be that our COVID-19-related campaigns garner considerably less attention and activity rates from consumers as vaccine rates increase and COVID-19 becomes more and more a thing of the past, depending on when our ads are run. To address this issue, a quick pivot could be to examine the difficulties small businesses face in a post- or near post-coronavirus world, to keep the ads relevant and engaging for the businesses we are working to target. Overall, the goal of our advertising campaign is to increase brand awareness of Canva among small businesses, so the ultimate objective is for us to measure how many small businesses adopt the platform as a result of our advertising campaigns. Ideally, the number of small businesses involved will continuously trend upward, but pivoting the campaign's COVID-related messaging or focusing on stories from active small business users should allow us to address any concerns as they arise.
Bibliography
"2018 Small Business Profile." United States Small Business Administration Office of Advocacy, www.sba.gov.
"5 Best Small Business Magazines for Entrepreneurs to Read." Strategic Capital, 22 Jan. 2020, capitalwithstrategy.com.
AFP News. "Microsoft Profit Soars As Pandemic Speeds Shift To Cloud." International Business Times, 31 Jan. 2021, www.ibtimes.com.
Al-Saad, Tam. "Canva's Digital Growth Strategy." Growth Manifesto, 13 Mar. 2021, www.growthmanifesto.com.
Becket, Xander. "The Cost of Advertising Nationally Broken Down by Medium (2019)." WebFX Blog, 2018, www.webfx.com.
"The Beginner's Guide to Small-Business Marketing Online." Canva, www.canva.com.
Browne, Ryan. "Australian Design App Canva Doubles Valuation to $6 Billion and Plans U.S. Expansion to Rival Adobe." CNBC, CNBC, 23 June 2020, www.cnbc.com.
Canva. "Record Growth at Canva Sees New $6B Valuation." Canva, 23 June 2020, www.canva.com/newsroom/.
Clark, Kate. "Graphic Design Platform Canva Valued at $2.5B with New Funds." TechCrunch, TechCrunch, 20 May 2019, techcrunch.com.
Dunwiddie, Justin. "How to Reach Millennials, Gen X and Gen Z on Facebook." RevLocal, www.revlocal.com.
"Facebook Advertising Targeting Options." Facebook for Business, www.facebook.com.
"Fortune - Magazine Advertising Costs." Gaebler.com Resources for Entrepreneurs, www.gaebler.com.
"Fortune Media Kit Audience." Fortune Media Kit, 2021, fortunemediakit.com/audience/.
"Gen X Marketing + Selling Strategies (2021)." The BigCommerce Blog, 14 Jan. 2021, www.bigcommerce.com.
Guinn, Justin. "Survey: Impact of COVID-19 on Small Businesses." The Blueprint, The Blueprint, 9 Jan. 2021, www.fool.com.
Jafrey, Irfan. "Council Post: Social Media Matters For Baby Boomers." Forbes, Forbes Magazine, 6 Mar. 2018, www.forbes.com.
Jurkowitz, Mark, and Amy Mitchell. "How Americans Get TV News at Home." Pew Research Center's Journalism Project, 30 May 2020, www.journalism.org.
Konrad, Alex. "Canva Uncovered: How A Young Australian Kitesurfer Built A $3.2 Billion (Profitable!) Startup Phenom." Forbes, Forbes Magazine, 9 Apr. 2021, www.forbes.com.
Konrad, Alex. "Design Software Unicorn Canva Hits $6 Billion Valuation In $60 Million Raise Amid Covid-19 Boom." Forbes, Forbes Magazine, 22 June 2020, www.forbes.com.
The Logo Creative. "Facebook & Brand Awareness How Can Facebook Help Improve Brand Awareness." The Logo Creative | International Logo Design & Branding Studio, 20 Nov. 2019, www.thelogocreative.co.uk.
Oster, Erik. "Canva Selects OMD as First U.S. Media Agency of Record." OMD, 29 July 2020, www.omd.com.
Powell, Rose. "Companies like Zappos, Canva Swap Hierarchies for Holacracy to Come out on Top." Australian Financial Review, 4 Sept. 2015, www.afr.com.
"Providing More Insight into the Small Business Owner." Experian, www.experian.com.
Ransom, Immy. "New Research Shows Impact of Global Pandemic on Demand for Web Design." PRWeb, 21 Oct. 2020, www.prweb.com.
Roberti, Justin. "Canva Gains 10 Million New Users in 2020 Q3." Hacker Noon, 31 Oct. 2020,hackernoon.com.
Shaoolian, Gabriel. "10 Marketing, Web Design & Branding Statistics To Help You Prioritize Business Growth Initiatives." Forbes, Forbes Magazine, 9 Aug. 2019, www.forbes.com.
Similarweb. "Canva.com Traffic, Ranking & Marketing Analytics." Similarweb, www.similarweb.com.
Sirk, Christopher. "Canva Makes Design Accessible." CRM.org, 3 Oct. 2019, crm.org/news/canva-makes-design-accesible, crm.org.
"Top Magazines for Small Business Owners." Sparklight Business, business.sparklight.com.
Vivekanandarajah, Ari. "Canva Marketing Strategy: How They Grew to 15 Million Users." Hype Insight, 9 Apr. 2020, hypeinsight.com/